Happy Birthday to SOL Yoga @ Prairie Athletic Club
5 Years of Wisdom SOL Yoga has gained, and it's now considered the Heart of PAC by many of its dedicated practitioners. Yoga has transformed many of our members, not only on a physical level, but also on a deeper, all encompassing well-being – Mind, Body, and Spirit.
The newest addition to the club was added back in 2014, with major plans to build a full size track, soccer field, basketball courts, and a very spacious hot yoga studio. Much research and thought went into how SOL would come to life. Everything from the most energy efficient HVAC system with humidity control, to state of the art flooring that's antibacterial and antimicrobial, and of course the overall design and look of the space to create a truly peaceful environment. We wanted it to feel authentic and warm, so when members entered the space, they could forget they're inside of a large gym. We wanted a space where members could take a break from the busyness of life, and that's exactly what SOL has to offer. As soon as you walk into SOL's Meditation Lounge (pictured below), a transitional space where members can relax, grab a cup of tea, and hang out with friends, a sense of relaxation washes over you. It's quiet, peaceful, and the scent of essential oils such as lavender and citrus linger in the air. It's the perfect place to unwind from the everyday stressors of life, or simply just find some time for a little self care.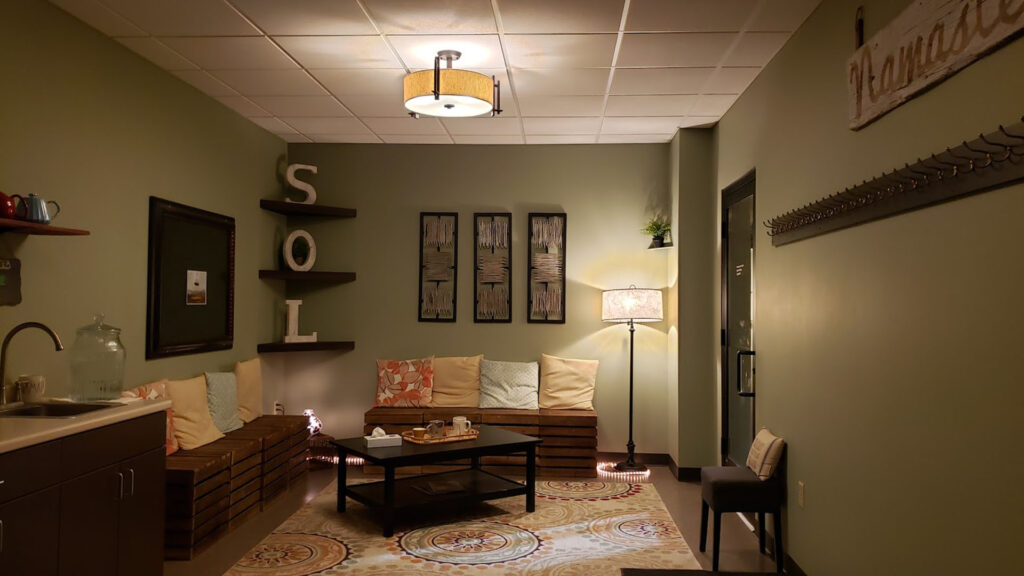 Over the years, the Yoga program at PAC has developed into its own community known as SOL Yoga. SOL has over 50 classes per week, and a diverse range of instructors with the ability to bring you many different perspectives on the practice. SOL has heated classes, as well as room temperature to fit everyone's needs. In the Summer, there's Rooftop Yoga on top of Adventure Lagoon. Practice Yoga with the sun shining on your face!
Most importantly SOL's mission is to provide a safe environment where yoga is accessible to every-body. No matter your yoga experience, all are welcome and invited to explore, learn, and grow at their own pace, without judgement. The classes range from Yoga Foundations (beginners level) to Yoga Core, and Power – a more advanced version of the practice, to a foam rolling & recovery class focused on reflexology and trigger points. One of SOL's most popular classes is Yin Yoga, where most poses are on the floor using props for support and held for 3-5 minutes. These long holds allow your body to surrender into the stretches using your breath. This practice allows you to open your deep connective tissues and release the stress and tension you're holding mentally and physically.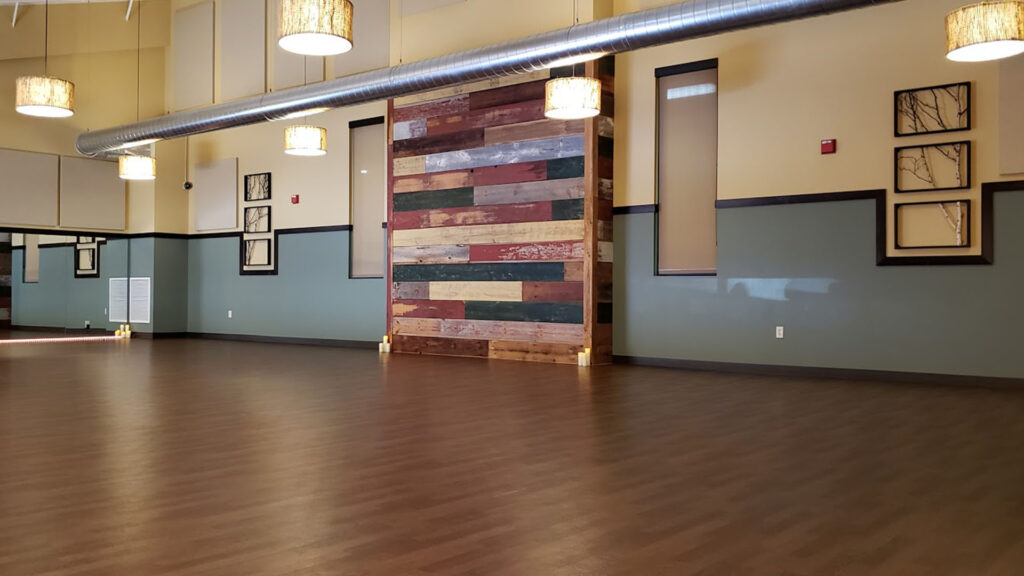 In addition to SOL's regular classes, they also offer special events and workshops. Everything from 108 Sun Salutations which is quite sweaty and physically challenging, to Reiki (energy work) & Restorative Yoga workshops which are the utmost rejuvenating. Sigh…
If you or anyone you know is in need of yoga, SOL Yoga at Prairie Athletic Club has some of the most affordable prices around. What's more is an entire health club that goes along with it. One of the many reasons to love Prairie Athletic Club is no matter what type of physical activity you gravitate towards, they have every option you could possibly imagine (and the support to find what's best for you!). If you have a passion for movement, you've just walked through the golden gates of heaven. And the yoga studio (SOL), you'll be blown away by the space.
Yes, you walk through a boisterous club to find the studio – inspiring, positive energy all around you, (ahem!… CrossFit Vultus music pumping for an insane workout)…
THEN, a short walk up the stairs & down the hall, you turn left & step through the door into SOL's Meditation Lounge. 
QUIET. SIMPLICITY. PEACE.
The walls are insulated. Welcome to letting go of everything that happened in your day, or the best way to center yourself for the day to come. Time & space to focus inward. To reflect. To enter a practice that allows you to continuously 
Ring it out. Sweat it out. Let it go. 
Drop anything that is no longer serving you for the better good of us all. You depart radiating positivity, fluidity, and empowerment to go back into the world being the best version of yourself that you can be.
Visit SOL Yoga
A Transformational Story
Sharron Nelson is one of our new instructors at SOL Yoga, but she's been with our community for even longer. Sharron started her yoga journey here with us at SOL just about 5 years ago, when SOL first opened its' doors. She took the chance to get out of her comfort zone and into the yoga studio at Prairie Athletic Club. The transformation her body, her mind, and her spirit have gone through since the time she decided to "try" yoga is such an inspiring story.
Please read the below. Just maybe this might help you find the inspiration, the courage, whatever it takes, to give yoga a shot.
Words from Sharron Nelson:
"This is a true story.The before and after. The universe did this extraordinary thing. It guided me to SOL Yoga at Prairie Athletic Club. Instantly I knew I was preparing myself for an unbelievable journey.
Being overweight and self conscious I forged on and with the guidance of amazing instructors I learned to connect. Connect with myself, my mind, my body, and my spirit. Each breath released the past, the hurt, and the weight. Everyday I came to my mat to find the better parts of me. It grew and GREW and I realized the more I gained in discovering myself, the more I became connected to a calming, centering sense of well-being.
I eventually wanted to bring this spiritual excitement to others and became a certified Yoga instructor. I am so thankful for the support, friendship and guidance of everyone at SOL. They have helped me teach myself so much.
If you are looking to find yourself, being present and becoming mindful with yourself, the benefits of yoga are amazing. Take the chance to find your own before and after."
A Testimonial by Jimmy Brandmeier
"I found a Zen Oasis at the Prairie Athletic Club—a way out of my daily rut-tine, and busy-ness, and the monkey-minded, pinball machine of problems that bang my brain every day—a way to slip behind the veil of white-noise yelping from a rush-ratty world, keeping me from hearing my own thoughts. It's PAC's Yoga program! I found it to be a powerfully simple way to get my body, mind and spirit soaring.
I know! Sounds sort of trendy and Oprah like. Hmm. Maybe. But SOL Yoga's incredible yoga instructors are really committed, really fired up, really expert in all things yoga, and the bottom line—trendy or not—yoga really, really works! (And how can something that's been around for 5000 years be trendy anyway?)
I'm a man of ahh, a certain age—who has the flexibility of a petrified plank. But the yoga instructors are so passionately patient, that my 2×4 flexibility level didn't matter. They know yoga is bigger than the body. It opens up your mind, body and spirit.
Having said that, I originally started yoga simply to gain a little flexibility and find something new to do with my wife. The unexpected spiritual benefits caught me by surprise! One night after immersing into the "Zen Zone" via Megan Reed's Yin class, a few of the students stuck around and broke into a spontaneous conversation about life. Loved it! I walked out not only feeling wayyyy better than I did when I walked in, I also felt like a made a couple of new friends in the process.
I urge anyone who wants to give their mind, body, and spirit a workout, to take a break from the rush-race, and give Yoga at the PAC a try. Your life will be the better for it. Ommmm… Ahhhh."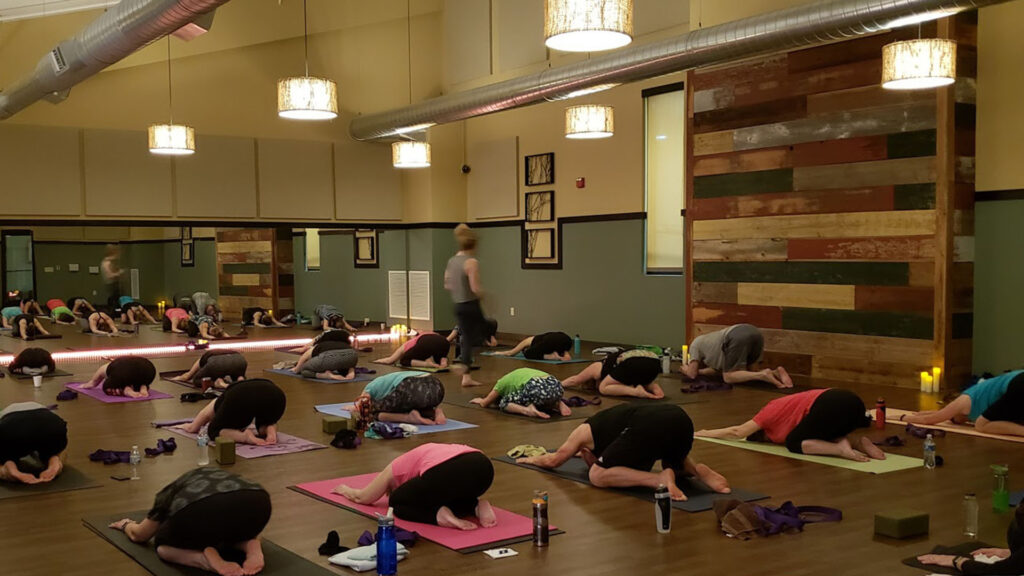 Questions???
If you have questions about yoga, if you'd like to discuss if yoga is the right fit for you, Megan Reed, SOL's Yoga Coordinator is here to help you along your yoga journey. Yoga is truly accessible to any body, and if you are not flexible, then all the more reason to practice. Yoga is not about doing all the poses "right" or so that you look a certain way; Yoga is about your inner experience – gaining strength, flexibility, mobility, releasing stress, and finding clarity in your mind. Contact Megan Reed at m.reed@prairieathletic.com to find out which classes are the best for you to start with.
Try your first class absolutely FREE!
Give it the ultimate test with a 2-Week Trial: Unlimited class for 2 weeks for only $30!
Already have an established practice and simply looking for a place to yoga, to run, to use the gym's facilities, and childcare, we have a Premium Class Membership for $99 per month which includes Yoga, TRX, Pilates, and more!
Everything you need under one roof (or on top of the roof!) – the yin & the yang. Come visit us here. You will be welcomed by the friendliest of beings around. A truly strong & supportive community has developed over its 5 years of serving as a safe and accepting environment for any-body to practice yoga and meditation.
SOL Yoga Programs